James' '96 4Runner
I bought my 4Runner used in April of 2001 with 80,000 miles on it. To me this car is just broken in.
It is an SR5 with oak leather. I was not to crazy about the leather but the price was right for the
truck. I ended up spending 13,100 before taxes. My rig had all options exept a roof rack. But
that is an option I don't think I would use. I chose the 4Runner because it looked very stylish
and most of all Toyota's reliability.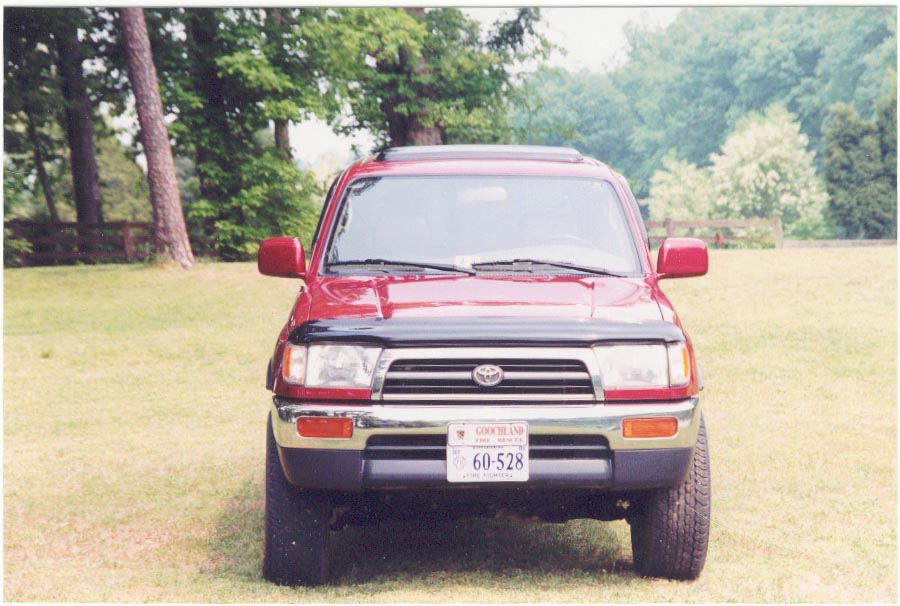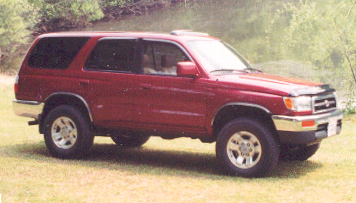 I have been very happy with my 4Runner for the past 8,000 miles.
It gets about 367 miles per tank and cost about $24 to fill up. Some
people I know do not get that great of milage with their runner, but
they own the Limited Edition wich weighs around a 1,000lbs. more.
Since I have owned my Runner, I have added a TRD air filter. This
type of filter lets more air pass into the throttle body producing
increased power. It even boosted my fuel econemy by 56 miles.
About myself:
My name is James and I live in Richmond Virginia. I am a Vol. Fire Fighter. I live out in the country (Goochland) and 4 wheel
drive is a nessesity on our farm. I enjoy mild-medium off-roading in my new rig. It is also great for taking me to my favorite fishing spots.
With Dunlop Grand Trek At's I have only come close to getting stuck once.I have never really challenged my rig yet since its so new
to me but that will change later.I like the SR5 becuase to me it looks rugged. Limiteds are very nice looking, but the rich ladies
of Richmond have made me glad I don't own one. :) My next toy for my Runner will be Hella 500 driving lamps. 500 dollars later
I am thinking of buying some Bridgestone Dueler A/T's.
4Runner INFO:
The web is packed with information on the 4Runner, but here are best places for Runner info.
Trail Talk (Toyota SUV) - meet people from all over the country who drive 4Runners. (I am not held responcible for any money you spend on mods)
Corey's 4Runner Page - A great site showing what you can do with your 4Runner and some extra cash.
Jason's 4Runner Page - Another packed site for 4Runner modifacation.
Gadget's 4Runner Site - This site discusses everything from mods to how to change your differential fluids. Tons of info here!
Wild Bill's 4Runner Page - Bill's 4Runner is a great model of what I would like my Runner to look simular to one day.
Wyatt's Toys - This great site goes over 1st gen to 3rd gen Runners.
This site will be under construction for some time